Shutters and Venetian blinds are strong, hardwearing, long lasting window dressings. However, like anything, venetian blinds and plantation shutters do require to be kept clean in order to look and function best! Nevertheless, keeping them clean, particularly if done regularly, really isn't a difficult task.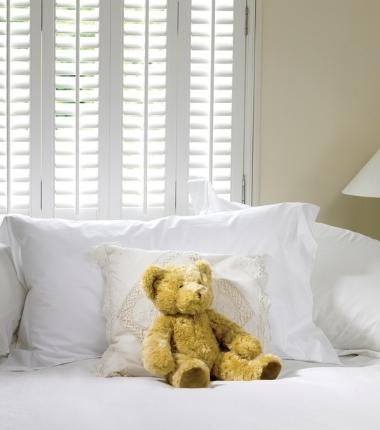 In order to keep your shutters and blinds looking as good as new we recommend these simple cleaning and maintenance steps.
Feather Duster

We advise using a feather duster on all of our shutters and venetian blinds (both wood and MDF). The duster will be able to remove the dust easily, fit through the slats / louvres and is very soft so will not scratch. Dust one side first, before repeating on the reverse side. You can also use a microfibre cloth which will pick up the dust without marking, or you could also try using a can of compressed air (like what you clean your computer keyboard with) to blast off extra dirt. For heavier dirt, you also use a vacuum with a brush attachment to remove the build up of dust, particularly around the window frame.

Damp Cloth

After the slats / louvres have all the dust removed, you can use a damp cloth with warm water to wipe the slat surfaces. Be careful not to use excess water. If required you can use a soft toothbrush to get into any cracks, crevices and corners. Be careful not to use powerful cleaning detergents that could cause damage or discolouration to your shutters or Venetian blinds.

Dry cloth to finish

Finish the clean by using a dry, soft, clean cloth to rub down and make sure there is no damp left on the slats or the frame. Never allow any liquid to remain on the surface as this may cause damage to your shutters or Venetian blinds and their finish.

Wipe the slats often

A tip to reduce deep cleaning time is to wipe the slats as often as possible, as this will limit the build-up of dust particles.
If you have any questions in regards to keeping your shutters or blinds clean, or for any maintenance or repair enquires, please do contact us and we would be delighted to assist you!